Burlington Suzuki School of Music provides a comprehensive musical training program in piano, violin, viola, and cello following the Suzuki method.
Students as young as three years of age can begin learning to play, attend group lessons, and perform at recitals. (Children younger than three are encouraged to join our Early Start Program.)
Suzuki training comprises private lessons, group or theory lessons, and plenty of performance opportunities.
Our highly qualified teachers are Suzuki trained and accredited, and are dedicated to nurturing and bringing out the best in their students.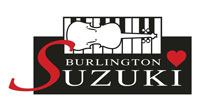 Tel: 905-630-5162
Email: [email protected]
Address: 1377 Walkers Line, Burlington ON L7M 0Z1
---